The famous Vietnamese attractions described on Vietnam currency
There are many Vietnam attractions, such as: Ha Long Bay, Quoc Tu Giam, Bridge Pagoda in Hoi An,… are the famous historical monuments, tourist attractions in Vietnam
Not only is it the currency, but also does it shows the history – culture of every country by the displayed picture on.
1. Pho Minh Pagoda
On the 100 Vietnam Dong, there is a picture of Pho Minh Pagoda, which located on Tuc Mac village and far 4km from the city centre, is one of the remnant of Hao Khi Dong A period. Pho Minh Tower is built in 1305, including: 14 floors, 21.1 of height, great dimensions and solid. The structure is pyramid and has many angles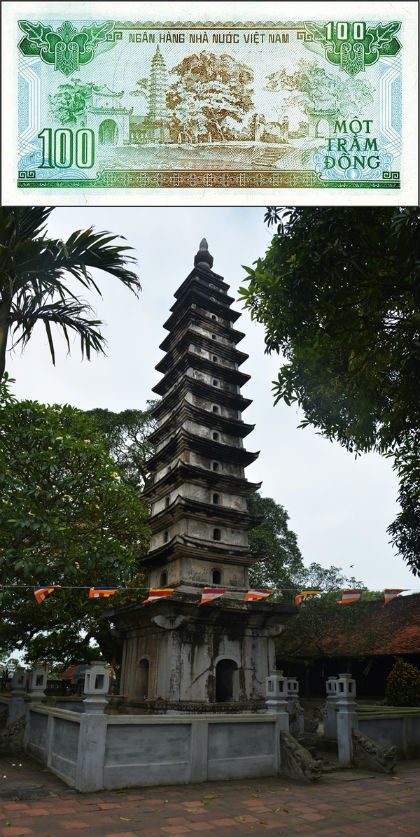 2. Cau Pagoda in Hoi An
On the 200.000 VND, there is a picture of beautiful ancient Cau Pagoda (Hoi An). The bridge in this pagoda has 18 metre of height, lean-to, and across from a stream to Thu Bon River. The pagoda and the bridge are made from wood and painted and carved meticulously, the front of this pagoda is located on the River. It is a symbol of cultural exchange between Japan – China – Vietnam.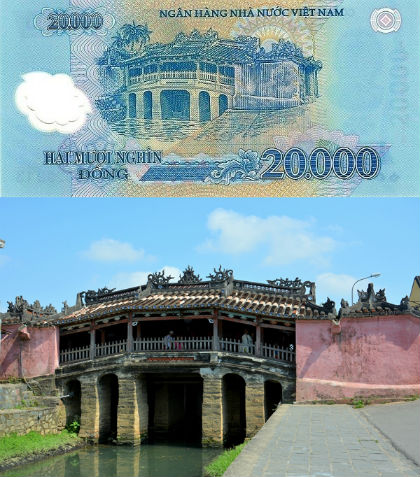 3. Nghenh Luong temple – Phu Van Lau in Hue
This historical monument, which is printed on 50.000 VND polymer, is the ancient structure in Nguyen period. Nghenh Luong Temple is located near Perfume River and was used to as rest place for King before taking off Dragon Boat. Phu Van Lau was built under Gia Long King period and was used as a place to inform important information from the King or results of national exam.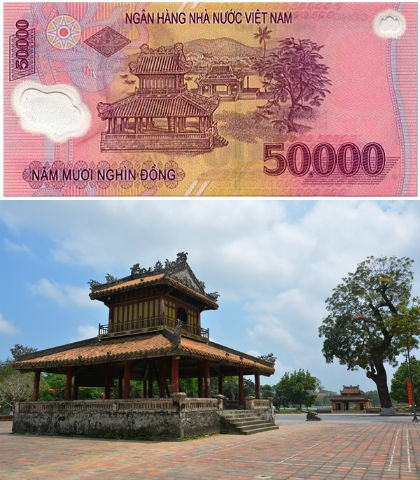 4. Dragon Pier
Dragon Pier was printed on 50.000VND. This was the largest commercial port in Sai Gon, which also was the place where Uncle Ho left to find the way to liberate Vietnam. And nowdays, it becomes Ho Chi Minh Museum.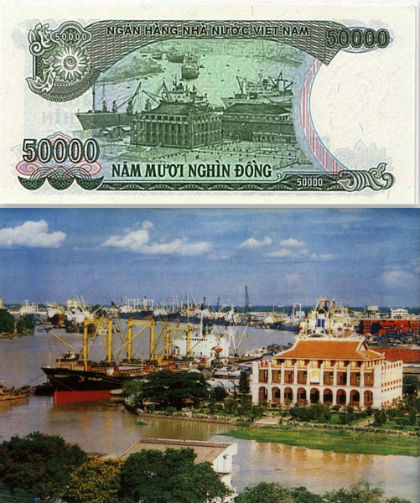 5. Van Mieu - Quoc Tu Giam
This attraction is appeared on 100.000 VND polymer. It is a symbol of everlasting of Vietnamese culture, education. This place also is the famous attraction in Ha Noi capital, attracting thousands of tourists come here every year. Moreover, there are many activities which are held here, such as: cultural activities, honor the people who come first on the test, recite poems activities, introduce spring poems activities…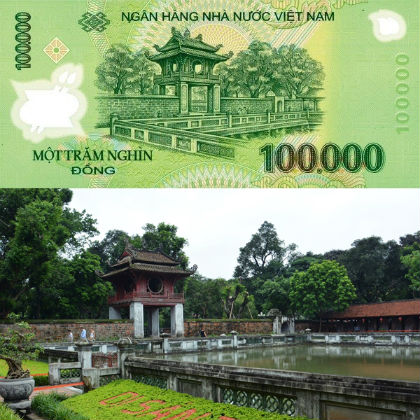 6. Uncle Ho's house on stilts
This attraction was printed on 100.000 VND (old). The house is simple and located on the centre of Ha Noi. In addition, the house is made of wood, coved by tiles with 3 rooms and has a lake in front of. Its disposition and arrangement of this house remind the same house of ethnic group in Viet Bac. Moreover, this house brings the value of thought and artistic by simple and truthfulness and shows us the poor but honest of Uncle Ho.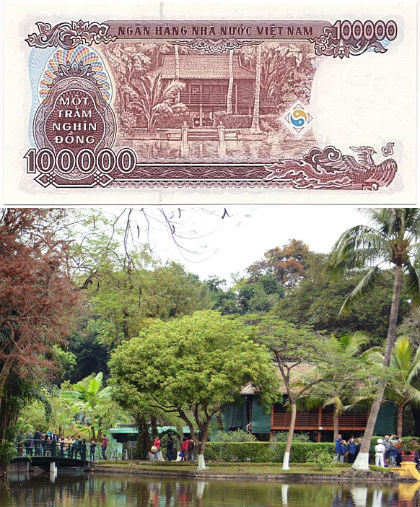 7. Ha Long Bay
Appeared twice on 10.000 VND (old) and 200.000 VND (polymer), Ha Long Bay is the famous attraction. It is seem as the enormous art of nature with thousands of islands.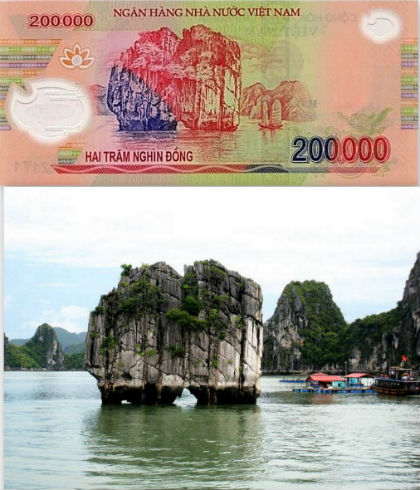 8. Lotus village
It is the biggest value paper now, the paper with face value 500.000VND has the picture of five compartments in Lotus Village (Nam Dan, Kim Lien). This house is a centre to keep an old documents, exhibits, …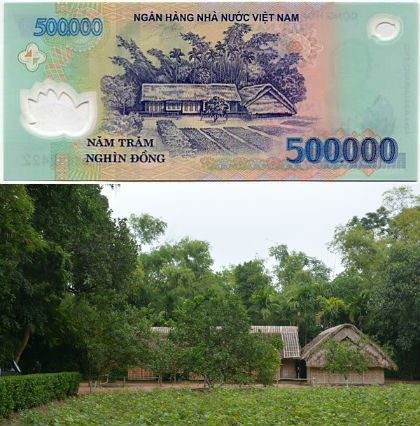 Source: vnexpress
Have a nice day!
Vietnam-Immigration.net