The Photo Requirements for Vietnam Visa On Arrival
After applying Vietnam visa online, we will send you the approval letter via email. Then you will print it out and prepare some required documents to get the visa stamp at Vietnam International Airport, including two passport-sized photos.


It is not so difficult for Vietnam visa photo requirements. But you need to learn more information about photo requirements, it will be really helpful for you. Here is the list of regulations of Vietnam Immigration department about photo requirements:
Two photos are required (one is glued on the entry & exit form, one is presented if needed).
Vietnam visa photo size must be passport-sized (2 x 2 inches) or standard Vietnam photography size (4 x 6 cm), identical and taken within be last 6 months.
The image size from the bottom of the chin to the top of the head should be from 1 inch to 13/8 inches.
Vietnam visa photo should be in color.
Your full face must be shown on the photo with a plain light background (white or off-white).
Photographs should be taken in normal street attire, without any hat or headgear that obscures the hair or hairline.
Uniforms should not be worn in photographs with the exception of religious attire which us worn daily.
If prescription glasses, a hearing device, wig or similar articles are normally and consistently worn, they should be worn when the picture is taken.
Dark glasses or nonprescription glasses with tinted lenses are not acceptable unless required for medical reasons. A medical certificate may be required to support the wearing of such glasses in the photographs.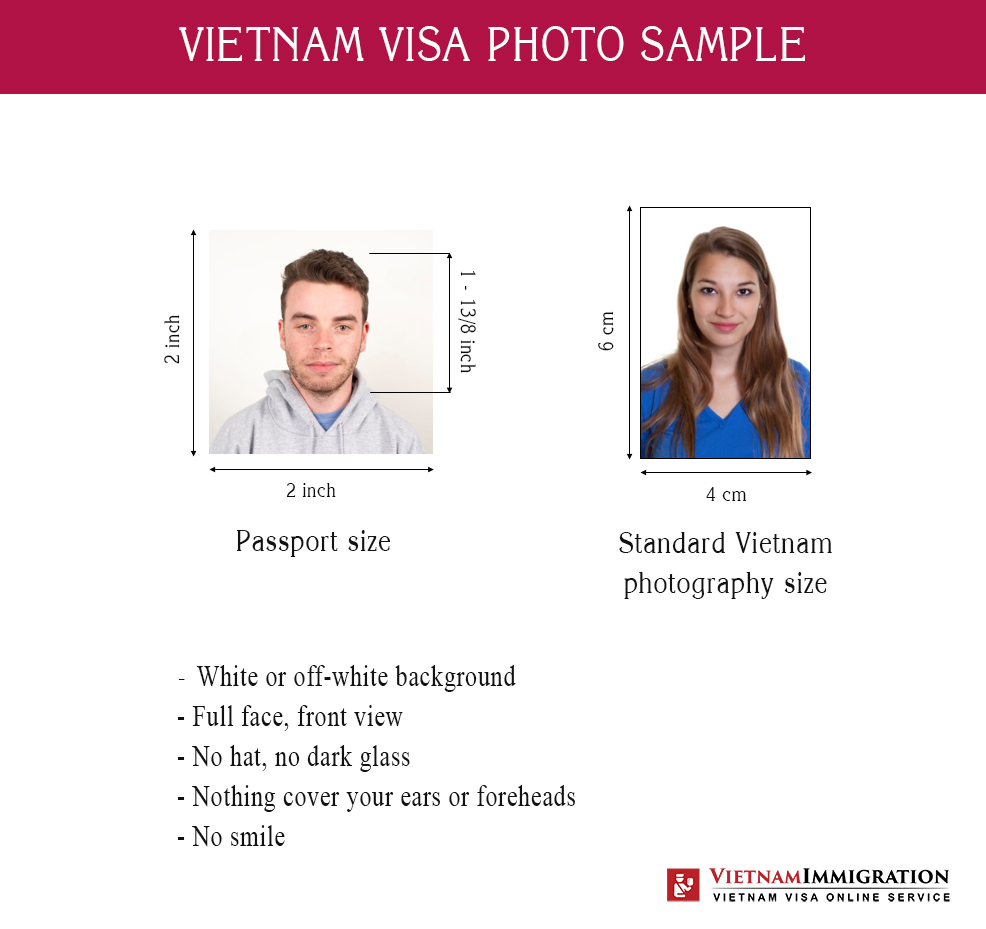 Vietnam visa photo size
It is better to prepare your image before taking off. If you forget, you can take Vietnam visa photos at the airport for about 5 $ per 1 photo paid in cash.
For more information about visa requirements to visit Vietnam, please do not hesitate to contact us. We are 24/7 to support you.
Other asked questions
Can I take a visa photo on my phone?
You can take Vietnam visa photos with your phone, camera or tablet but not with a webcam. Don't take selfies, ask someone who can take photos professionally. Please make sure your photo is compliant with passport photo requirements.
Can you wear glasses in Vietnam visa photo?
In the past, wearing sunglasses or prescription glasses in visa photos was not allowed. But now, you're allowed to wear eyeglasses as long as you shoot frames that don't cover your eyes.
What are

Vietnam visa photograph requirements

for children?

Children still need Vietnam visa pictures like adults. However, due to the difficulty of photographing the babies, the rules were relaxed slightly. Children visa photos only need to meet certain requirements such as face should be 50%-80% of the picture, neutral expression, no hats, no nipples or toys in the photos
Have a nice day!
Vietnam Visa Team (Vietnam-Immigration.Net)